Situated on the southwest coast of Cyprus, you'll find Paphos, the mythical birthplace of Aphrodite, the goddess of love and beauty. Paphos caters to those seeking idyllic and romantic settings, a place to bask in the sun all year round, and those who want to discover the culture, history and culinary delights of this fabled island.
Who we are:
With a total of four premium resorts along the gorgeous southwest coast of Cyprus, Constantinou Bros Luxury Hotels proposes three outstanding adult-focused hotels to harbour the most luxury holidays for adults only in Paphos. These three spellbinding beachfront properties are equipped with a superb range of amenities, awesome facilities and 5-star luxury services. The perfect formula for a romantic beachfront getaway, a conference, any kind of special event, or even fairy-tale weddings in Paphos.
When it comes to luxury holidays for adults only in Paphos, Constantinou Bros Luxury Hotels are simply unrivaled.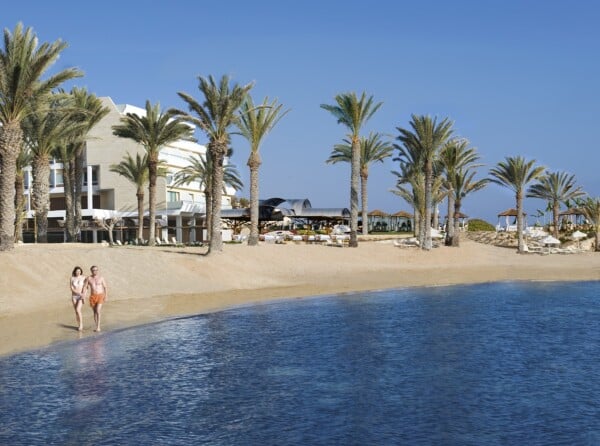 Here is what to expect, at a glance:
Premium location: Our adult-focused, four and five-star hotels in Paphos are situated on a gorgeous sandy beach and conveniently close to archaeological sites of interest, local restaurants, bars, and shops.
Up-scale accommodation: Elegant, breezy, bright, and comfortable suites, decorated with taste, and quality, all come equipped with a superb range of amenities.
Fitness: Guests at our hotels can enjoy a wide range of sports and leisure facilities; these include outdoor freshwater swimming pools, indoor heated pools, jacuzzis, green bowls facilities, table tennis and floodlit tennis courts.
Wellness: Indulge in head-to-toe pampering at our hotel spas. Unwind in the sauna or steam bath, and stay fit in our well-equipped fitness gyms. Choose from an array of professional massages, thalassotherapy, aromatherapy, as well as body treatments.
Sensational flavours: You can expect excellent gastronomy and fabulous ambiance, ranging from laid-back to uber-romantic dining experiences at our hotel restaurants and bars.
Business facilities: Our conference halls and meeting facilities meet the highest standards, with a dedicated staff to provide high-quality equipment and services and turn your business event into a success.
Spoiled for choice:
Choose from our three Constantinou Bros adult-focused beachfront havens in Paphos, Cyprus to find your perfect fit.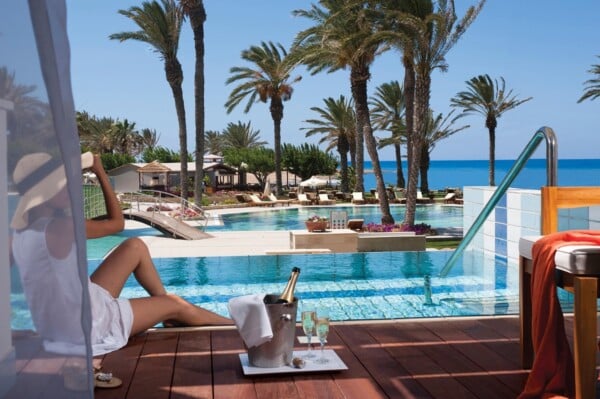 Asimina Suites Hotel
A Blissful Beachfront Sanctuary In Paphos, Cyprus
Asimina Suites Hotel is a luxurious, 5-star, adult-focused beachfront retreat in Paphos. All suites at the hotel have their own private and stunning sandy beach, as well as access to two outdoor interconnected, freshwater swimming pools.
All the suites enjoy deluxe marble ensuite bathrooms and large private balconies with a view. A number of the suites have a private swimming pool with a wooden deck.
Planning a honeymoon getaway? Asimina Suites Hotel is a seaside paradise perfect for a romantic escape and the ultimate setting for luxury holidays for adults only in Paphos.
Athena Royal Beach Hotel
Serene Beachfront Hotel For Adults Only In Paphos
With three outdoor pools, five restaurants, and a spa, the Athena Royal Beach Hotel provides the quintessential luxury holiday for adults only in Paphos.
The hotel is set right on the seafront, with a palm-lined beach. The gardens house three swimming pools, sun loungers, parasols, and a jacuzzi.
All rooms and suites are elegant and bright and enjoy luxury ensuite facilities and large balconies with impressive views of the sea and or the hotel's extensive gardens.
Enjoy some fine dining and romantic candlelit dinners at one of the hotel's five restaurants! The Athena Royal Beach hotel also boasts three bars, including a smart cocktail bar in the lobby and St. Andrew's Rooftop Bar that offers amazing views and enchanting sunsets.
Athena Royal Beach Hotel is an exceptional choice for an undisturbed adults-only beach holiday with all the bells and whistles.
Pioneer Beach Hotel
Sublime Beachfront Adults-Only Hotel In Paphos
Constantinou Bros Pioneer Beach Hotel is another splendid destination for sun-soaked beach holidays for adults only in Paphos. This adult-focused, four-star, beachfront hotel is situated on a gorgeous private sandy beach.
All the rooms have large balconies with views of the Mediterranean or the surrounding serene landscape. The Pioneer Beach Hotel is an idyllic destination for couples seeking a peaceful, relaxing, and undisturbed luxury beachfront getaway.
Discover and experience the essence of this timeless and bewitching sunkissed island to its fullest at one of Constantinou Bros' Luxury Hotels where you can expect an unrivaled 5-star experience and an exceptional stay that will exceed all of your expectations.
Athena Beach Hotel
Family and Adult-Friendly Luxury Hotel In Paphos
Although Athena Beach Hotel does also accept families, it is also a very adult-friendly luxury hotel, situated directly on the beach in Kato Paphos. It is a hotel that offers the best of both worlds, since we have carved out a designated child-free area for guests over the age of 16 years to relax and unwind in.
The adults-only zone lets guests enjoy the serenity of tranquil surroundings with the most up-scale facilities. These include an adults-only swimming pool and an adults-only pool bar in addition to Zephyr Restaurant set in a wonderful semi al fresco setting next to the pools which caters only to adults 16+ for buffet breakfasts and a la carte dinners.
The beachfront location, exceptional services and extensive choice of facilities make the Athena Beach Hotel an ideal venue for both couples and families with older children alike while it is also an exceptional choice for a beach-themed wedding in Paphos, kissed by the sun, in the birthplace of Aphrodite, goddess of beauty and love.
Whichever one of our hotels you end up choosing to harbor your luxury holidays for adults only in Paphos, rest assured you are in for a vacation experience that will be cherished for years to come.