An elegantly simple way to cook tuna. Recipe prepared by our executive chef at the Asimina Suites Hotel. Enjoy!
INGREDIENTS
For the Tuna  
900g Sushi-Grade Tuna
1/2 cup Black Pepper, coarsely ground
1/4 cup Salt
For the Courgettes
8 Courgettes
1/4 cup Extra Virgin Olive Oil
Salt
Coarsely Ground Black Pepper
For the Lemon Caper Butter
8 tbsp Unsalted Butter
2 tbsp Capers
2 Lemons
1/2 tsp Salt
1/2 tsp Ground Black Pepper
METHOD
To prepare the tuna
Slice the tuna into 6 equal steaks. Combine the pepper and salt in a small bowl and pour
onto a clean dinner plate. Press each tuna steak into the mixture to coat evenly.
Refrigerate until ready to cook in the skillet.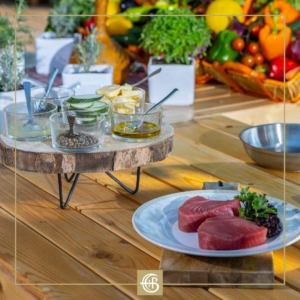 To prepare the Courgettes
Preheat the skillet to medium. Cut each courgette lengthwise into 5 or 6 strips.  Lay flat,
brush with oil and sprinkle with salt and pepper. Saute for 1 for 2 minutes per side,
until lightly browned. Set aside.
To make the lemon caper butter
Add the lemon juice and capers to a small saucepan and after add the butter. Cook for 2
minutes. Add salt and pepper and cook for 2 minutes to heat through.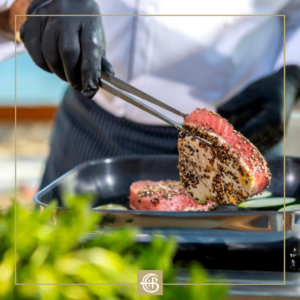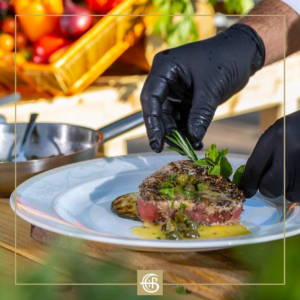 To Saute the tuna
Add the tuna steaks to the skillet and saute for 2 to 3 minutes on each side for medium-
rare.
To assemble, place 5 or 6 courgette strips in the center of each plate. Drizzle with lemon
caper butter. Top each plate of courgette with a tuna steak.
Prep Time: 10 Min
Cooking Time:
Serves: 6