Are you planning a trip to Cyprus? You can't beat Constantinou Bros Hotels for sensational adult-focused holidays in Paphos.  Along with four spellbinding beachfront properties in Cyprus, enjoy a superb range of amenities, awesome facilities, and 5-star luxury services. Come and discover the best all-inclusive hotels in Cyprus and the idyllic setting for a romantic getaway, a family stay, a conference or a fairytale wedding. 
There are multiple benefits to an all-inclusive holiday. You get the best value for your money with affordable luxury solutions, it saves you time and makes your holiday stress free. You need not worry about extra costs while there is a plethora of services and facilities to use at your leisure, whenever you feel like it. Ultimately, an all-inclusive holiday gives you the ultimate freedom of choice without further thought. That's what true luxury is all about.
All four of our luxury beachfront hotels in Paphos are situated on gorgeous sandy beaches and conveniently close to archaeological sites of interest, local restaurants, bars and shops. All of our rooms & suites are elegant, spacious, bright, super comfortable, tastefully decorated and enjoy splendid views.
We offer a wide range of sports and leisure facilities including outdoor freshwater swimming pools, indoor heated pools, jacuzzis, bowling facilities, table tennis, and floodlit tennis courts. Our hotel restaurants feature Greek gastronomical excellence and distinct ambiances, ranging from laid-back to romantic settings.
Guests can experience all the above through the Ultra All-inclusive Premium Packages offered at each hotel for a series of unlimited choices and excellent value for money.
Elite Class – The Upgraded All-Inclusive
You can enjoy all that and a world of privileges more, with Elite Class. At Constantinou Bros Hotels, we like to go above and beyond and we want to give you an even more exclusive experience, whenever and wherever possible. For this reason, we offer a complimentary upgrade to Elite class at our all-inclusive hotels in Cyprus, Paphos.
Available for bookings of the following types: Superior Rooms, Superior Deluxe Rooms and  Suites, across all four of our all-inclusive hotels in Cyprus, Elite Class offers guests extra benefits on top of the ultra all inclusive board.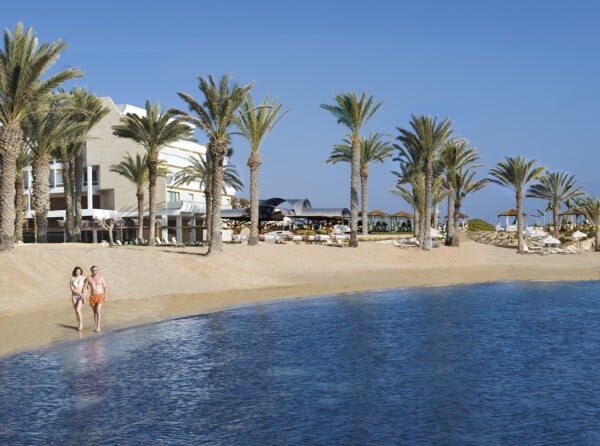 Our staff will greet you with an exclusive VIP check-in which includes a welcome drink and cold towels. It's your holiday, so why should you have to wake up early to catch breakfast? Maybe you like to start your morning with a swim followed by breakfast, or perhaps you had a late night exploring Cyprus' exuberant nightlife? During your stay at the best all-inclusive hotels in Cyprus, you can have a dedicated late breakfast room until 11.00.
Let's face it, early morning checkouts are not anyone's favorite, especially when your flight doesn't leave till later in the day. Wouldn't it be nice to enjoy a leisurely breakfast, use the pool, grab some rays or pop by the hotel spa for some relaxation and recreation upon availability before your trip back home?
With Elite Class, you enjoy a complimentary late check-out until 18:00 upon availability, a set menu in the A la Carte restaurant for your evening meal, a 10% discount on selected golf courses and free use of Bowling Greens. Sounds like a dream, but it's a reality at our all-inclusive hotels in Cyprus.
Choose From Our 4 Ultra all-inclusive Hotels In Cyprus
Is it an adults-only setting you are looking for? Or a family-friendly resort with adult-focused facilities? At Constantinou Bros Hotels, you are bound to find one of our all-inclusive hotels in Cyprus to answer your call. The abundance of exceptional leisure facilities keeps all guests entertained and the best choice for holidays that have it all.
Asimina Suites Hotel is a luxurious, 5-star, adult-focused beachfront retreat in Paphos. Guests here can enjoy direct access to the hotel's private slice of sandy beach heaven, as well as access to two outdoor interconnected, freshwater swimming pools.
Another adults-only haven, set along the same sandy beach, with three outdoor pools, five restaurants, and a spa, the Athena Royal Beach Hotel offers the quintessential luxury all-inclusive holiday experience for carefree moments.
Pioneer Beach Hotel is another splendid choice for a sun-soaked beach holiday that is strictly adult-oriented. This 4-star, beachfront hotel is an idyllic destination for couples seeking a peaceful, relaxing, and undisturbed luxury beachfront getaway.
Athena Beach Hotel is the group's family-friendly luxury hotel, situated directly on the beach in Kato, Paphos. Although it is designed for families, offering facilities that mostly thrill our younger guests, such as Oasis Splash waterslides and more,  we have carved out a few areas just for adults, since parents deserve to relax in peace.
Savor the essence of the timeless and beguiling island of Cyprus at Constantinou Bros Hotels. An unrivaled 5-star experience awaits you when you book accommodation at our best all-inclusive hotels in Cyprus, even more so when you unlock the Elite Class added benefits. From an exclusive check-in, dedicated dining options, and numerous additional featured amenities, a stay at one of our all-inclusive hotels in Cyprus promises an exceptional stay that will exceed all of your expectations.