Sesame crusted halloumi…a delicious way to enjoy the traditional cheese of Cyprus! The creamy salty cheese and the crunchy sesame are the perfect combination! Recipe prepared by our executive chef at the Asimina Suites Hotel.
INGREDIENTS
For the Fried Sesame-Crusted Halloumi
2 tbsp All-Purpose Flour
1 Egg
1/3 cup Sesame Seeds
200g Halloumi Cheese, cut into 1cm slices
3 to 4 cups Vegetable Oil
1 tbsp Honey
For the dressing
1/4 cup Balsamic Vinegar
1 tbsp Shallot, chopped
2 tbsp Honey
1/4 cup Extra Virgin Olive Oil
For the Salad
5 cups Rocket
2 tbsp Pomegranate Seeds
1 tbsp. Pine Nuts (optional)
METHOD
For the Fried Sesame-Crusted Halloumi Scoop flour onto a plate. Beat egg in a shallow bowl.
Pour sesame seeds onto a second plate. Coat halloumi slices in flour, shaking off excess.  Dip in egg, then roll in sesame seeds
to coat.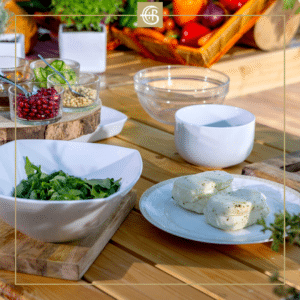 Pour oil into a large frying pan until it reaches 1/2 inch up the sides. Heat over a medium heat. Add the halloumi slices to the hot oil.
Fry, turning slices often until sesame seeds turn golden brown which will take around 20 sec to 1 minute. Remove the halloumi slices from the oil onto paper towel-lined tray (or plate).
Drizzle the honey over the halloumi slices just before mixing in the salad.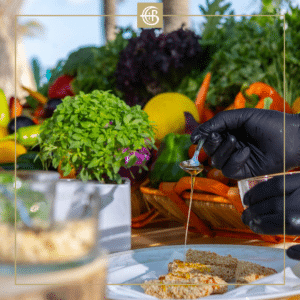 For the dressing
Combine all the ingredients in a small bowl and using a whisk, pour in the olive oil. Whisk rapidly as you pour in the oil in a slow stream to emulsify the mixture.  Cover and set aside.
For the Salad
Wash and dry the rocket. Combine all the salad ingredients in a large salad bowl. Pour a small amount of dressing to lightly coat the leaves. Just before serving, sprinkle the salad with the pine nuts and pomegranate seeds if you like. Serve dressing on the side.
Prep Time: 15 Minutes
Cooking Time: 15 Minutes
Serves: 4